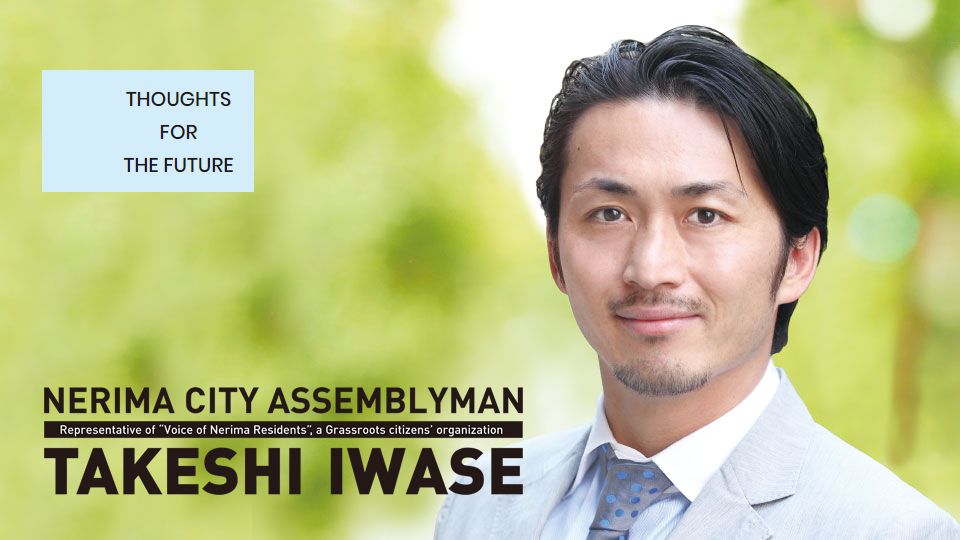 Together for Peace, Human Rights, Livelihood and Greens
Article 9 of the Current Constitution Must Be Safeguarded.
Having specialized in constitutional law at university, and having worked in countries at war, I have a great appreciation for the current Constitution of Japan and am against the attempt by the current ruling party to amend article 9 and other key provisions. In particular, article 9 of the Constitution renounces war and prohibits Japan from maintaining the war potential. Use of force only leads to cycles of violence and revenge. With this simple fact being acknowledged, article 9 has been officially nominated as a candidate for the Nobel Peace Prize. To prevent continued cycles of violence, I will promote education that teaches objective and accurate modern/current war history which would also emphasize the value of peace and tolerance.
Fighting for the Rights of Minorities – LGBT, Persons with Disabilities,
Foreign Residents including Refugees and Stateless Persons and More.
The Japanese Constitution also stipulates respect for individuality and non-discrimination based on race, creed, sex, social status or family origin. We must fight against discrimination – including hate speech – against minorities such as LGBT, persons with disabilities and foreign residents including refugees or stateless persons. My mission as an assemblyman is to mainstream the minority rights in the Nerima city administration and to promote the education for tolerance and understanding towards individual difference. I believe what's good for minorities is good for Japan. A minority-friendly society is a majority-friendly society.
Supporting the Movement for Nuclear-Plant Free Japan
Japan has long been known as the safest country in the world, but such an international reputation has been affected after the explosion of the Fukushima nuclear plant in 2011. We must seek alternatives to nuclear power not least to ensure the healthy upbringing of our nation's children.
Making Nerima a City Where Men Can Flourish in Family and Community Life,
and Women Can Live up to Their Potential.
Japan was ranked 101st among 145 economies in the Global Gender Gap Report 2015 by the World Economic Forum. It must be acknowledged that in Japan, it is still overwhelmingly women who sacrifice their career to look after children and do other domestic chores. At the same time, in recent years, Nerima has been ranked as the second worst city among the 23 cities making up the core part of Tokyo prefecture in terms of the number of children who are unable to get enrolled in any kind of (government authorized or authorized, public or private) preschool child care due to the absolute insufficiency of such facilities. As a result, every year, many parents – the vast majority, if not all, being women – are compelled to extend their child care leave from work or quit their job to look after children. On the other hand, due to different factors such as long working hours and social pressure, men tend to be either unable or unwilling to actively participate in child-rearing or community activities. In order to ensure that women can pursue their career and that both parents are able to lead a quality family life, multi-faceted measures need to be taken. In addition to promoting work-life balance for all, the number of child care facilities needs to be expanded, and an environment which encourages men to get more proactively involved in household and community activities – through awareness raising and other activities – needs to be created. "The society in which all women can shine" at work – which the current government is aiming to promote in order to boost Japan's economy– cannot be realized unless we enable men to "shine" or flourish in family and community life.
Growing Global Kids and Developing Children's Individuality
The number of Japanese people who work around the world is still small. In order to nurture human resources which can play a significant role in the world, we need to promote an education which provides children with early/quality exposure to foreign languages and equips them with public-speaking/discussion skills as well as the ability to think and act independently. On the other hand, prevalence of bullying at primary and junior high schools in Japan is a serious issue; many children commit suicide every year, and the number of children who are compelled to stop going to school keeps raising (122,655 in 2014). We must work hard to prevent bullying at schools as well as to support free (alternative) schools providing venues for children to learn and develop their individual talents outside school in order to live up to their potential.
Fighting to Protect Water and Greens
Nerima City is known as a "greenest" city among 23 cities of Tokyo prefecture. For example, in Oizumi Town where I live, abundant greens still remain in parks and small-sized farms. However, this greenness is currently at risk due to projects such as new road construction. We must protect the clean water and greens that everyone in Nerima City is proud of.
Takeshi Iwase (DOB: 18 August 1977)
Takeshi Iwase was elected as a Nerima City Assemblyman in April 2015 after running for the election for the first time. Prior to working for the City Assembly, he had worked first for one of the major Japanese private companies (Mitsui Chemicals, Inc), then later in the field of overseas development aid, initially as a JOCV, and later as a development expert implementing projects for Japan International Cooperation Agency (JICA). He has an expertise in income generation, marketing and community development and worked in 20 countries around Latin America, Africa and Asia. He did an internship with the United Nations High Commissioner for Refugees (UNHCR) Tokyo. Takeshi speaks fluent Spanish (DELE C1) and English (TOEIC 940). He has an MBA and a BA in law from Waseda University. Takeshi lives in Oizuimgakuen with his wife, son and mother-in-law.